That you
DO NOT
want to miss the upcoming antique shows in TEXAS! Well, here's just more of why you will not want to miss seeing these awesome people in action putting their hard work, blood (
sometimes it can be a hurtful job
), sweat (
yes it is worse than a sauna sometimes in Texas
), and tears (
especially when the degrees get near a 100 and it's Spring time and should be cool sweater weather, you just want to cry
) in action at the
Marburger Farms Antique Show

.
Here's what caught my eye at past shows there: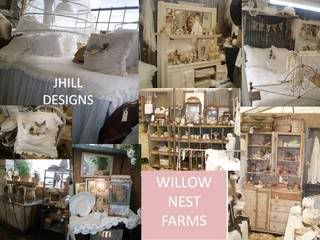 If this isn't convincing enough, check out
Fancy's blog, Cactus Creek

,
for one of the best reasons of all to attend because it could be free. Marburger usually charges a $25 early entry fee on the first day of their opening show day, but if you wait until 2:00pm to get in it's only $10. The bad thing about waiting until 2:00 is that you won't be one of the first ones there, waiting in line (
it's almost like a race because you are behind the yellow tape and the Security guys there will not let you get past the yellow tape until opening time
) to see all the great displays before they are torn down by that afternoon. You should see the women literally running to check out their favorite vendors. And, don't be caught in the traffic line waiting to drive into Marburger, so my tip for you is to arrive their early so that you aren't stuck out on the highway in all the traffic.
If you've never been to the
Marburger Farms Antique Show
, let me just tell you it is so worth the $25 fee just to see all the things that these vendors bring. Some things you will never see in any other show. It's one of my fav shows to attend, besides
Zapp Hall
of course. Hope you make plans to attend.
25 DAYS and counting, see you there!!