I'm sure you all have read, seen, or already purchased Annie Sloan paint. The popularity of this paint is all over blogs, facebook, and websites. I'm so excited to announce that you will be able to buy Annie Sloan Paint during the Warrenton Antique Show. Renee of
A Junk Queen
and Barbara of
Simple Blessings
are both teaming up with
Michelle Delgado
of Wonderfaux Studio, who is the Houston distributer of Annie Sloan Paint. You'll be able to find it at Renee and Barbara's booth in the Bar W Field in Warrenton Tx during this Fall's Antique Show. Their space is located down from porta-potty row, as they call it at the back of the Bar W Field near the back exit to the field.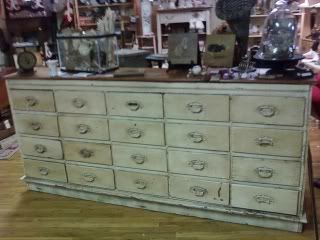 Most of their furniture they've painted will be featuring Annie Sloan Chalk paints with an immaculate attention to antiquing details. They are also holding special shopping events to beat the heat on Sept. 22-24 and 29-Oct. 1st they will be open from 6-9pm. Come and shop and enjoy cool refreshments and learn how to paint your Flea Market finds.

I'm also excited to announce that Michelle is going to be my special guest during the Blogger Party on Sunday, Sept. 25 at 6:00 pm in my booth at Zapp Hall. For those that aren't familiar where I'm located my tent is the only tent that backs ups to the front of the Hall. Just listen for all the ladies talking and laughing and you'll find us! Since I have so many questions about this paint, Michelle has agreed to do a demonstration exactly how to use the paint and you can also buy the paint from her at the party. Or if you aren't able to attend the party, you can find the paint in Renee and Barbara's booth. Michelle will be holding several other demonstrations at Bar W throughout the show.

Hope to see you this Fall at the shows.