This is the last few days of the year. Soon 2011 will come to a close and a new year will begin. It just seems that the years, months, seasons seem to fly by. Is it that I noticing time flying by or do you notice it too. I don't really like making New Years Resolutions, partly because I don't keep them and I'm not sure they totally represent what I want in the New Year. But what I do love about the beginning of a New Year is the feeling of a clean slate, the chance to start over.
There's a joyful presence I seem to feel with a new year. A chance to do something different, maybe something I've been longing to do but have put off. I just feel a newness in the air. A new beginning.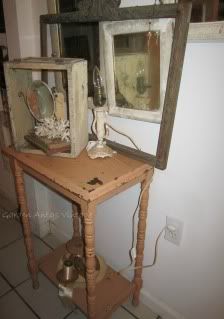 I also like to reflect on all that has happened in my life this past year. It gives me a sense of thanksgiving for all that has occurred in my life, whether good or bad. It helps me to also think about what things I'd like to change or do differently. I know we sometimes don't embrace change but change can be good. A chance to learn more and grow from it.


I also hope you'll be watching for my next post that will come out hopefully on January 1st. I got the chance to visit a dear friend's Special Place this past week and I can't wait to show it to you. Her vignette's are so inspirational and she's truly an amazing decorator, creator of vintage re-purposed things, and just a really good friend.
I want to wish you all a very safe and Happy New Years. Here's to new dreams and adventures. See you in the new year!