The Accumulations show was this past Wednesday evening and Thursday and what a blast it was. I wanted to show you who all set up there:
Van Harrison:
Peg of French Vanilla:
Janette Bibby: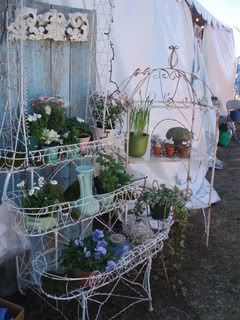 Steve of Uncommon Objects:
Amy of Bloom & Bee Swanky:
Linda Parker:
Micki & Brandy's barn with more pretty things outside:
My space:
I have to tell you a quick story about several other pieces of ironstone I had brought to the show. It was all set up on a tall industrial rack that my husband had forgotten to tie down. The day had been overcast but I didn't expect it to be so windy and along came this strong wind and you can guess what happened. The rack toppled over and broke just about all of it. Well, I was literally sick over it, but then I realized it was just stuff; stuff that can be replaced. Well, let me tell you what a great group of friends that were at this show. Not only did Steve, Ludmil, John and Van come running to help me out (since my husband wasn't there), but the girls gathered a box of their personal ironstone and presented it to me. Thank you all so much for this and to Amy for allowing me to room with her and for the sweet gift as well and to Micki for the awesome cabinet. You all are the best!! Despite this, it did turn out to be a great show.
Enjoy the rest of the show:
We'll be doing this again tentatively at the end of October, so keep watching for this event and I hope you make plans to attend. Thanks to all the customers that showed up and especially those that mentioned they had read it on my blog.
Lisa
and Linda you two are too funny, we'll have to do that again.