I'm sure you are wondering why I want to celebrate with White. Well, of course you know that today is
Kathleen's White Wednesday's
and today it's also
my Birthday
, so there, I have two reasons. And since I love White, why not celebrate it. See even
Janet
had a White Birthday Party, loved this idea. You'll have to read about it
HERE
. I have some great pics to show you of her party,
if
my other computer will ever be fixed, I'm beginning to wonder...
While at the shows, I received Fifi's new book,
Romantic Prairie Style
, and I haven't been able to put it down. It has lots of great ideas and inspiring places. I also recently received the Jeanne D'Arc Living Magazine, which is more of a book to me, and you can always find inspiring ideas here (
thanks Karen again for my gift of this magazine
). And finally, I purchased the Summer Cottage Style Magazine.
Here's what caught my eye in these pages:
I still love ironstone, white mirrors and hydrangeas-my favorite flower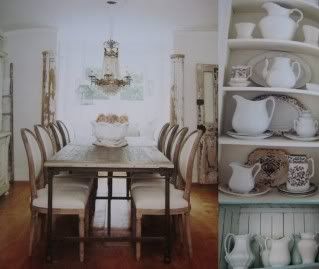 Carol of
Raised in Cotton's
dining room is so inviting and inspiring and paired with
Maria's
ironstone, it all looks good in this collage.
Loved the "C" in this picture. Jeanne D'Arc Living Magazine always has great vignettes to inspire me.
Now
Joy's
house is just beautiful inside and out. I love her collections and recently found a gold mirror very similar to the one that has a picture with it.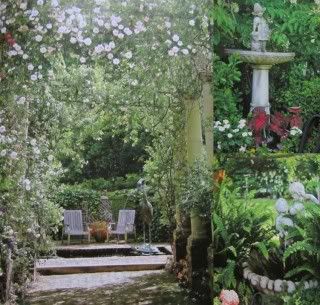 and white flowers always stands out in a garden
(all images used from these three books/magazines mentioned above)
Won't you join me for a piece of Birthday Cake:
We can sit in the garden if you'd like.
Happy White Wednesday!!
Thanks for all the Birthday Wishes, You're the best!!