Saturday we headed out early for our 4 hour drive to Fredericksburg Texas. I couldn't hardly wait to see what Robin Brown had in mind for her Magnolia Pearl Fashion Imaginarium Show, and getting to see Carol Hicks Bolton's new store was going to so be worth the drive. It rained almost the entire way there but that couldn't stop us from going to attend this awesome event.
Our first stop was in Dripping Springs Texas at
Thyme and Dough
. It's an awesome place to stop and eat at. The first time I discovered this place was when we setting up at the
Accumulation Show
. They have awesome homemade breads and food and they also sell plants. I've tried their scones but I was there to buy their Turkey Roll. It's bread that's rolled up like a jelly roll with turkey and cheese all throughout it and then pesto and cheese is on top. It's so fabulous. Here's the place: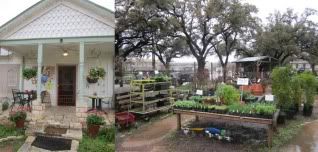 This is one place you need to mark on your bucket list of places to stop at.
From there we headed on down to the Fredericksburg Trade Days. It was nice meeting Betsy of
Sister's Treasures
and seeing several familiar faces was great too. I found a few treasures here, but what's funny is that I bought from dealers that are normally at the Warrenton Texas Antique Shows.

Check back for my next post on Carol Hicks Bolton's Shop and I'll be showing you more of Robin's Fashion Show.