Tomorrow, March 10th, the Accumulations Hill Country vintage Home and Garden fair starts. There is going to be so many awesome vendors here and coupled with being in the Hill Country is a double shot of excitement. I hope you've made plans to join us for shopping and wine under the starts. It starts at 4:00 pm sharp, get there early so that you can be the first in line.
Since it's also
Kathleen's White Wednesday
tomorrow, I thought I'd do this post early and show you some of the white things you can find here. Here's a preview of what you'll find at Brandy and Mickie's Barn, proud owners and sponsers of the Accumulations Hill Country
vintage Home and Garden Fair
.
See the pretty white metal chandeliar? Well, I just couldn't stand it and had to have it!
I don't know what it is about the School Sign and this display, just love it all.
Chicken feeders and the blue tool box are so versital, see you can now keep your ironstone in them.
Look how cute these garden shovels look all grouped together hanging in front of the window. What a cute idea.
Cute display with a cute sign, can't go wrong with anything in this display.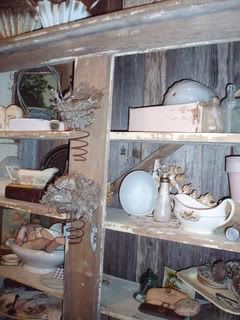 More pretties below:
This is just cool stuff all grouped together.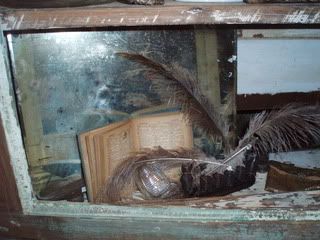 I never tire of displaying with old photo's. More photo's in this display.
Another great arrangement of things.
If you come out to the show, you should also make plans to eat at the
Salt Lick Restaurant
, which is located about 5 miles from the show. Best BBQ around, it's so good, you'll definately be back for more. We always sit on the screened porch because I like to watch the birds while we eat. Here's a picture of hubby when we were there on Saturday:
Don't forget we'll also be open on Thursday, March 11th. Hope to see you there!
FYI
:
15 Days
away from being at the
biggest antique shows in Texas
! Are you planning to come out? Sure hope so.