We all love
Cat Daddy
, aka CD. That's just the pure truth of it. Even
Ms. Trash
herself has accepted the fact that she does have to share him with all his fans at least 20 days a year (
sometimes more if they do other shows other than
Zapp Hall
).
He even has what Debbie has lovingly referred to as "Cat Daddy's Kitten's", look on her side bar and you'll see who they are (yes I am one, thank you very much)!! You have to earn the right to be called one of CDK's, so don't go thinkin that just because you email the momma cat that that will automatically get you on the list. Oh no. You have to tell him just how handsome he looks, yes even when he's unloaded the trailer and will only wave at you from a distance (that's the Elvis wave that is~see below pic), and bring him Zapp Hall tea or better yet Royer's Pie, now that will win you points.
But the best secret of all is... okay are you ready for it, you have to win the momma cat over first. Yes that's right, she owns the right to all his celebrity ways. Heck she created the monster, I mean the one and only CD!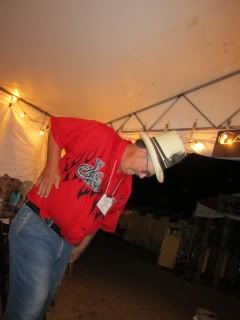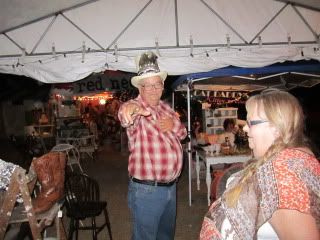 There she is keeping a watchful eye on her money making creation! He even does the Elvis wave to her if they stop at a good estate sale. You see she waits behind in the truck waiting for his sign. But that's another story for another day.
See you in 19 days at Zapp Hall and don't forget to bring a pen to get his autograph!
Mark your Calendars
:
The
Zapp Hall
Antique Show starts March 30
My
Blog Party
April 1st ~ 6pm (more details soon)
Junk Gypsy Prom
, April 5th
all the above is at the
Zapp Hall Antique Show
in downtown Warrenton Texas.