I wanted to send out a last call for you bloggers that have considered coming to the
Marburger Farm Antique Show
but wasn't sure if you wanted to pay the fee to get in. Where here's your chance to win a ticket as a VIB (Very Important Blogger).
All you have to do is leave a comment on the
Marburger Farm Blog
telling us the link to your post. If you've never been and don't have a previous post to tell us about, then blog about why you'd like to come to the show.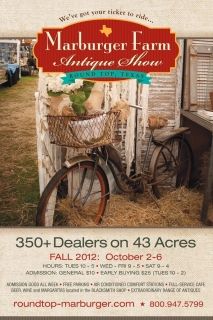 Come on, you know you want to come and check out the show. Besides you wouldn't want to miss the Rachel Ashwell's booksigning event at 1pm or the Blog Party at 3pm and of course there's the displays, they are some of the best. To sign up for this you have
until Sunday
!! Let me know if you have any questions.