When I started having problems with my computer shortly after I returned from the Spring Show, my nephew felt certain he could recover my pictures, but even though he tried, he couldn't. All the Pictures I've taken in the last 4 years are gone, they couldn't be recovered. It makes me really sad that I didn't use some kind of backup program. It wasn't because I wasn't warned, but I didn't listen. At least I saved some of my pictures on different programs, but the one's with family and holidays, birthdays, special occasions and all the pictures I took during the Spring Round Top/Warrenton shows couldn't be recovered. I tell you this to please encourage you to back up your photo's before you lose them all.
Since I don't have my pictures to show you, here are a few things from the last show in Round Top/Warrrenton Texas that I wanted to at least share with you (I borrowed pics to do this):
(Credit: all these pics were borrowed from Susie's Blog.
If you missed her post on the party, you can read more about it
HERE
)
Amy, Jolie, and Janie
put together the most awesome goody bags in pretty pink bags to give away at the Party and they were a big hit. Gina of
Peacock Park Design
had beautiful bracelets that she brought and gave away. And
Carol's husband
made such pretty aprons that he made and they brought them just for the party. Lisa of
Pix Up Stix
won the Blog Party Contest for having the most creative name tag. I want to thank everyone that brought such awesome food or came to the party or brought party favors, you guys are the best! I tell you if you haven't had a chance to come out to any of the parties you need to plan to come out to the next one this Fall.
Please check my blog for the next party in September
. We have the best time and you meet some really great people.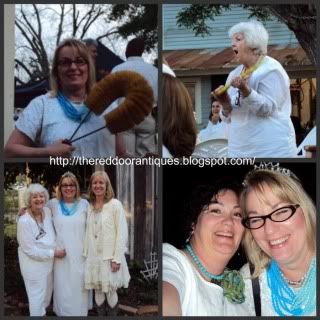 (Credit: Check out Trisha's blog for
her post
on this party.
She had so much more to show you.)
Janet also took us on an awesome house tour in the quaint town of New Ulm. I wish I had the pictures I took to show, but it was an old school house (if I remember correctly) that was turned into the cutest place.

I also have to tell you the story about why her mom had the reaction she did in the picture above. Her mother set up at shows way before any of us thought of even doing this and she had made the item she was holding in her hand. Well it had long since sold, but one day when Mo (Janet's sister) was at the Canton Texas Flea Market she spied something that looked like her mother would have made. When she turned it over she saw her mother's signature. Now how awesome is that to actually find something that your mother made so many years ago and then be able to buy it back for her.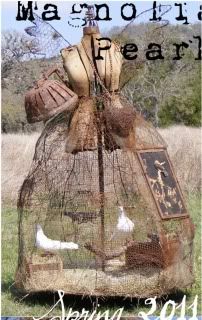 Robin's Creation can be found
here
The
Marburger Farm Blog
has so much to show you of the vendors that set up at their show. This is of
Theresa's
booth. She always brings the best industrial and vintage items: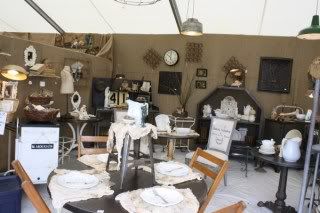 Theresa of Time Worn Interior's booth was seen
here
, but you can also check out
her blog
for more pictures of her booth and the show.
And of course I can't always wait to see what fabulous display
Judy
has come up with:
Photo Credits: Judy Hills booth was seen
here
.
This isn't even a small fraction of the fabulousness at this show. There's ton more to see.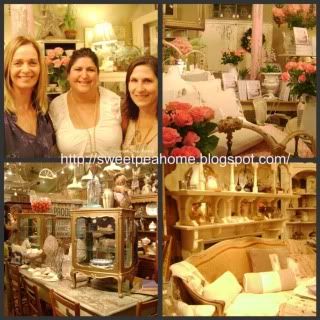 (Credit: Photo's from
Shelley's blog
, be sure and check out her blog for more great pictures)
I have made myself a promise to back up my pictures so in the event my computer crashes again I won't loose any of them as well as the important pics of my family.
Just think you are about 30 days away from the shows starting!! I can't wait, let's just pray for cooler weather though. Hope to see you soon.