I'm so excited to be included in the Summer issue of
Flea Market Style
Magazine. Here's the scoop:

I am listed on page 8 "7 SECRETS OF THE FLEAS". I was honored to be interviewed and my tip along with 6 others are included on this page.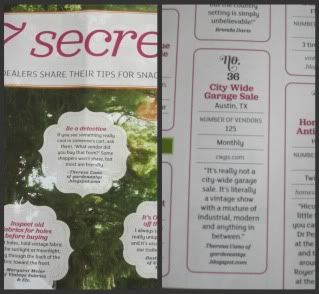 Then two of the three shows that I recommended were selected to be included as well.
You'll find the City Wide Garage Sale on page 16
and
Judy Hill's Home Show
is also on the same page.
You've got to get your copy of the magazine. It's jam packed full of great articles.
Thanks again FMS Magazine, you've made my day. Happy Junkin!